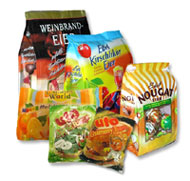 About
Company A-Z Packaging, s.r.o. offers services in the following areas:
Contract packaging (mainly food products)
Marketing packaging and direct mailing
Fast moving consumer goods (FMCG) packaging
Manual assembly of customer goods and products
Warehousing and distrubution
Consultancy in packaging
Certificates
Since 2007 the company A-Z Packaging is approved by Government Veterinary Administration of the Czech Republic and it is the only one co-packing company in Czech Republic with its ID mark which allows to pack food products of animal origin (like milk, meat, etc ...). The company is a holder of ISO and HACCP certificates.
History
Company A-Z Packaging was founded in April 2006 and its main activity is to provide a premier contract packaging to Food brand owners. We offer packaging of food and non-food products into different bag styles. The company operations conform to high standarts and fulfill all hygiene Regulations.
The basic principle followed by A-Z Packaging is a high quality of customer service.
Pictures
top